Spearmint Resources Inc. (SRJ) has signed a letter of intent ("LOI") to acquire a 50-per-cent interest in a payment processing technology for use in the retail marijuana industry. The technology under development includes a multi-user electronic wallet application for mobile phones that enables consumers to securely and conveniently access information as well as make and receive payments. The application will ensure the sale of marijuana at retail outlets is simple and efficient.
The potential acquisition by SRJ is an attempt to collaborate with companies currently focused on participating in specific sectors of the North American Medical Marijuana industry. However, the secure technology will be available users worldwide to purchase their medicinal marijuana via a preloaded payment app on either their mobile device or on a prepaid loyalty card.
Medicinal Marijuana
In the USA, twenty-five states and the District of Columbia currently have laws legalizing marijuana in some form. Most recently, Louisiana lawmakers amended the state's existing medical marijuana law, permitting doctors to recommend rather than prescribe medical marijuana, which runs counter to federal law. The law also expanded the list of eligible conditions for cannabis treatment. Other states have passed medical marijuana laws allowing for limited use of cannabis. Some medical marijuana laws are broader than others, with types of medical conditions that allow for treatment varying from state to state. Others states have passed laws allowing residents to possess cannabis oil for certain medical illnesses. In April 2016, Pennsylvania become the latest state to legalize medical marijuana.
Research shows the US market for legal cannabis grew 74 percent in 2014 to $2.7 billion, up from $1.5 billion in 2013, making it the fastest growing US market that year.
Conrad Clemiss, CEO of SRJ stated that "This is an exciting sector for the company to be investigating. While there is no guarantee of success, based on our research, we are one of the first companies potentially entering into this sector and in a unique position to spearhead the movement into safe, secure and convenient point of sale transactions."
There is no guarantee that the formal deal will get signed and the LOI is subject to due diligence, execution of formal documents, board approval and regulatory approval.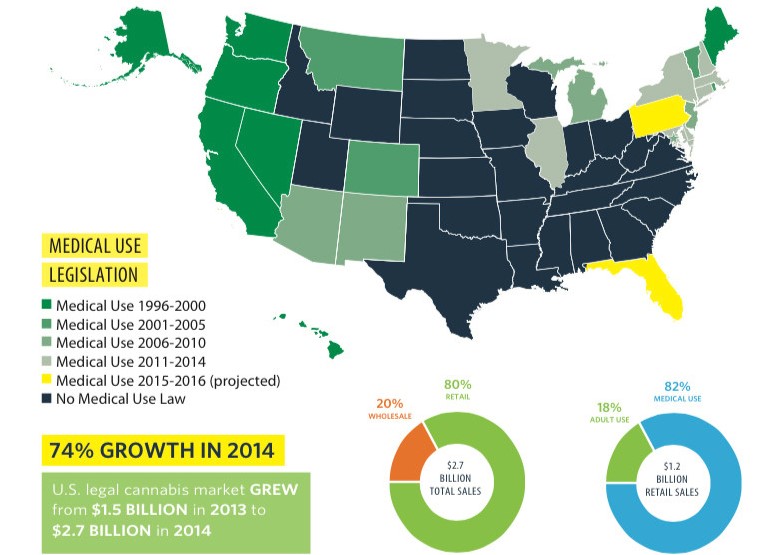 Legalities
The possession, cultivation and distribution of marijuana remain illegal at the federal level in the United States. While there has been a federal policy to allow marijuana operations that are compliant with state laws to remain in operation, state law provides no protection against federal action. Should the U.S. federal government take action, the potential for civil and criminal consequences cannot be ignored. Therefore, the structure of a sale for marijuana must withstand state, federal and local scrutiny. In addition, the transaction may be subject to state and local regulatory approval. Therefore, the ability to complete a transaction may be beyond the company's control.
SRJ has no operating history and is an evolving business model. There are no guarantees that the company will achieve profitability or obtain future financing. Demand for the company's products is dependent on a number of social, political and economic factors that are beyond its control. While the company believes that demand for the products will continue to grow, there cannot be guaranteed.